Add an Extra Gift
Say it with something a little bit special and check out our blooming wonderful range of extra gifts
FREE Confetti and Glitter Sprinkle
Add a coordinated sprinkle of confetti and a dusting of glitter to your order for FREE.
Scrumptious Hamlet & Champagne French Truffles
The perfect extra gifts for the chocaholic in your life, either a 125g box of delicious premium assortments from Hamlet Chocolates containing rich caramels, smooth creams, soft centres and crunchy nuts or discover the exquisite flavor of champagne through these 250g cocoa dusted chocolate truffles.
Both can be added to your order for just £7.00 each.
Add a 200ml Bottle of Italian Sparkling Prosecco
A miniature bottle of a crisp Italian sparkling wine with a delicate lemony character and an aromatic, dry and refreshing finish. All yours, or at least your recipient's, for just £6.00.
Prosecco is an Italian sparkling white wine. Prosecco DOC simply means it was produced in the Conegliano Valdobbiadene region in Friuli, Italy.
Sprinkle of fresh rose petals
There's isn't a more romantic gift to add to your balloon than fresh rose petals, so why not sprinkle your order with some love in the form of these beautiful petals all in the box for just £5.00.
Please note we will try our best to colour coordinate the sprinkle to match each and every occasion, if however you would prefer something different, simply let us know in the additional comment box on our order form and we will make it happen..
Half Bottles of Moet Champagne
Moet Champagne is a premium bubbly that's perfect for all occasions from a birthday treat to a romantic gesture.
Each bottle is half sized and contains 37.5cl of pure bubbliness and is yours (or at least your recipients) for £29.00.
Cuddly Teddy Bears in all shapes, sizes and quantities
Our cute and cuddly teddy bears come in all shapes and sizes:
25cm Blue Teddy Bear - £17.00
25cm Pink Teddy Bear - £17.00
15cm Love Heart Teddy Bear - £5.00
40cm Brown Teddy Bear - £29.00
40cm ILU Teddy Bear - £29.00
75cm Brown Teddy Bear - £69.00
120cm Brown Teddy Bear - Sold Out
(All sizes shown are when the bear is sitting down)
Add some extra balloons and send a 2, 3, 4 or 5 balloon bouquet today
Plain Balloons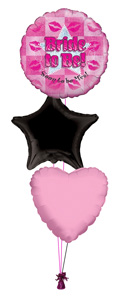 What are 'Plain Balloons'?
Plain balloons are balloons without a design. They come in three different shapes - stars, hearts and circles and a range of colours.
The colour/shape combination of your extra Plain balloons is completely up to you. There's an "Additional Comments" section on the order form which is your chance to specify what you want, go nuts!
The image to the right is an example of adding six extra Plain balloons to a Bride To Be Main balloon.
Extra Plain balloon prices-
Main Balloons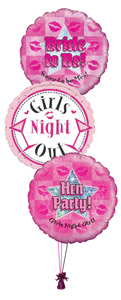 What are 'Main Balloons'?
Main balloons are all the ones with designs (that's most of them). They come in various shapes, sizes and themes from Birthdays to Hen Nights and everything else in between.
As with the Plain balloons you can tell us exactly which other balloons you want in the "Additional Comments" section on our order form. If none are specified we will add a suitable selection to match the occasion.
The image to the right is an example of adding six extra Main Balloons to a Bride To Be! Main Balloon.
Extra Main balloon prices-
What is a Balloon Bouquet?
A balloon bouquet simply means multiple balloons on one weight as seen in the images above. Adding some extra balloons is an easy way to make your order that little bit more special.
Why add Extra Balloons?
Adding extra Plain or Main balloons is a perfect way of "filling out" your balloon gift as they turn a single balloon into a fabulous balloon bouquet for a little bit extra money.
Find out more about our extra balloons
Add a Floral Gift
Make your balloon gift a floral one with a luxury rose or bouquet from our big sister site InterRose.co.uk.
Add Splash of Spring Bouquet
£23.00

Add Inky Twinky Bouquet
£23.00

Add Totally Tulips Bouquet
£21.00

Add Carnation Carnival Bouquet
£21.00

Add Sunny Sunflowers Bouquet
£25.00

Add Fun and Funky Bouquet
£29.00

Add Sincerely Yours Bouquet
Sold Out

Add Country Cottage Bouquet
£34.00

Add Pretty in Pink Bouquet
£34.00

Add Mellow Yellow Bouquet
£25.00

Add a Red Rose
£14.00

Add a Pink Rose
£14.00

Add a White Rose
£14.00

Add a Yellow Rose
£14.00

Add a Blue Rose
£19.00

Add a Happy Rose
£19.00

Add a Purple Rose
£19.00

Add a Black Rose
£19.00

Add 12 Red Roses
£39.00

Add 12 Pink Roses
£39.00

Add 12 White Roses
£39.00

Add 12 Yellow Roses
£39.00

Add 12 Blue Roses
£54.00

Add 12 Happy (Rainbow) Roses
£54.00

Add 12 Purple Roses
£54.00

Add 12 Black Roses
£54.00

Add a 12" 24kt Gold Trimmed Red Rose
£79.00
Help Centre
Copyright ©
Rights Reserved